iDataScan™ is a Multi-Function Vision Reader that inspects documents, mail pieces, booklets or other items ensuring 100% processing integrity without impeding performance. iDataScan™ offers high-speed, robust inspection allowing multi Region Of Interest (ROI) inspection within the same camera view. iDataScan's™ flexible, modular design intended for easy integration on printers, inserters and other processing devices.
iDataScan™ systems can read several different symbologies. Available symbologies are 1D barcodes, 2D barcodes, PDF 417, IMB, OMR, OCR, logos, signatures, image presence or absence. DDS uses industrial grade controllers and cameras for its designs. Monitors are touch screen for simplified user interaction. Most iDataScan™ systems are upgradeable and have I/O relays to control other devices such as diverters or offset conveyors based on the vision system decisions.
Cameras are available in USB, GigE and line scan. Our advanced line scan technology is the solution when you need to analyze an entire envelope or document. DDS' line scan system scans the entire document or mail piece in milliseconds. This allows the system to evaluate multiple regions of interest with one camera in a single pass in addition to optionally having the ability of recording an image of the entire piece.
Line scan solutions can ensure that items such as postage or permit Indicia, address blocks, images or correct logos are present. They can also read and evaluate barcodes including IMB and ensure it is to USPS specifications
Typical Applications: iDataScan™
End of process scanning on insertion equipment to ensure mail piece integrity
Sequence inspection, verifying any missing documents
Sorting, edge of envelope marking
Return document or booklet inspection
HIPAA compliance
Check or negotiable document inspecting & recording
Data collecting for process verification, proof of printing & mailing
Front to back duplex verification
Pocket to pocket match
Credit card to carrier match
The uses are endless…
Area Scan camera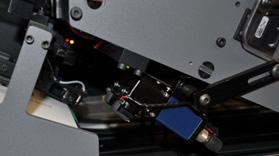 In pocket camera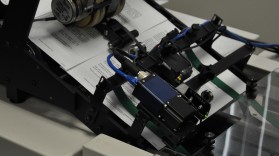 Output Verification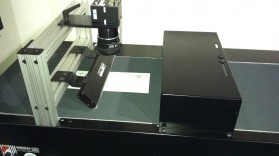 Enclosed Line Scan camera